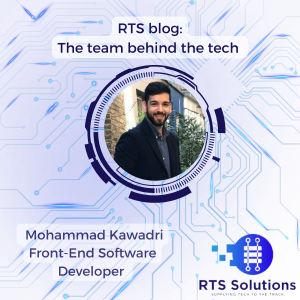 Skilled Front-End Software Developer Mohammad Kawadri has been part of the RTS Solutions team for just over a year. We caught up with him to hear how he's settling in and learn how he's found the transition into the word of rail industry technology.
What are your main responsibilities within your role?
"My role focuses mainly on developing and improving the user interface (UI) of the client-facing applications. This includes the Work Management Service (WMS), Resource Management Service (RMS), and On-Track Maintenance Service (OTMS).
The aim for this is maximising the user experience and improving the overall performance for our customers. This helps RTS Solutions' overall aim of improving the technology in the rail industry.
When the project manager plans any new features to support innovation of digitalisation in the rail industry, I roll-out this to the Ops suite. I maintain the existing code base, keeping current web applications functional and in line with updates from industry tools and standards.
When any newly reported bugs appear via the helpdesk or internal checks, I fix the issues. To mitigate the risks of new bugs, I keep on top of implementing new technology and updating or replacing existing technology. I also work on building a library of UI web components to upgrade the underlying client technology."
Can you tell us about your career background and when you joined the RTS Solutions team?
"I'm a self-taught Front-End Software Developer, previously working in the cryptocurrency field. I wanted to focus my career more towards Enterprise resource planning software, helping businesses to manage their day-to-day business activities. That's why I was proud to join the RTS team in April 2022."
What is the best part about being in the RTS Solutions team?
"The team is always welcoming, easily approachable, and open to help or provide information when I need it. Whether it's regarding specifics about the rail industry, problem solving, or helping me to understand how users will utilise our web applications, someone is always available to support me. This makes playing my part toward innovation in the rail industry easier and more successful."
What is your favourite part of your role?
"I find my daily work as a Front-End Software Developer stimulating. I'm always working on interesting challenges, learning new technical skills, and learning how to make positive changes for the rail industry through technology."
What draws you to the world of software and technology for the rail industry?
"There's always something new to learn in this industry – not just through my own role as a developer, but also about the rail industry itself. There's a lot going on behind the scenes that before joining RTS, I would never have thought of.
The software and technology aspect allows me to work on interesting situations that relate to real life problems. Innovation is essential, and imagining how I can play a part in moving the rail industry forward is an exciting and fulfilling feeling."
Paul@RTS-Solutions.net or call him on 07858678175.