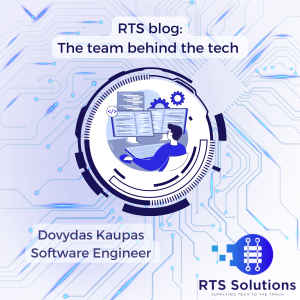 Software Engineer, Dovydas Kaupas joined RTS at the beginning of 2023, so we wanted to catch up with him now that he's had a chance to settle into the company and find out how he's finding life at RTS!
What are the main responsibilities of your role as a software engineer?
I am currently working on a new and exciting project for RTS. My current focus is our mobile app development project. My main responsibilities within this project include:
Creating and maintaining mobile applications
Staying up to date with the latest technology
Liaising with other team members to discuss and develop ideas
User interface (UI) testing and development
Can you tell us about your career background and when you joined the RTS team?
I have been working in the mobile apps industry for almost 4 years now. I have experience with a wide range of native and multi-platform mobile app development frameworks. I joined the RTS team early this year.
What's the best aspect about being a member of the RTS team?
There are lots of great things about being a part of the RTS team. There's a great culture that allows us to all work flexibly. The rest of the team are great to work with and we are able to work remotely.
What is your favourite part of the role?
I really enjoy using Flutter full-time, a mobile app development framework that I am passionate about. Flutter is an open-source UI software development kit developed by Google. The system can be used to develop cross platform applications from a single codebase for any web browser.
What draws you to the world of rail/software?
I like creating things, so I find enjoyment in programming. I like to know that I've helped to make life easier through the simplification of processes and elimination of the need for so much paperwork. Our technology has also helped to keep people safe at work, which is very rewarding to know!
Paul@RTS-Solutions.net or call him on 07858678175.