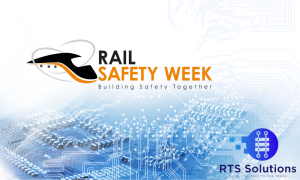 Safety is the cornerstone of our business here at RTS Solutions, which is why Rail Safety Week (RSW) is an important cause for us.
Organised by Rail Forum, Rail Safety Week is an industry led initiative which seeks to educate passengers, customers and the wider public about the importance of safety across the rail network.
Is safety a problem on the UK rail networks?
The Office of Rail and Road (ORR) reports that in the last year there were 990 million passenger journeys across Great Britain on mainline rail, London Underground and other non-Network Rail networks.
Whilst organisations such as RSW seek to completely reduce incidents they do still unfortunately occur. The good news is that the number of incidents are generally decreasing, although there was an increase of one fatality based on the previous year, but reduced travel due to Covid restrictions could have played a part in better figures that year.
As an industry we would like to see the number of incidents reduced to zero, and we are working towards making this a possibility.
How can RTS help improve safety standards across the rail network?
Working closely with our clients over the years we understand the critical safety standards that the industry adheres to.
Through much research and development, we have integrated features that support health and safety at every level.
Our data can help to inform and reduce potential risk factors.
Mobile capabilities allows for the most up to date information for all parties at any time.
A centralised hub of information ensures there is a single source of truth.
Work order management

Resource management
Asset management

To find out more about how RTS can help to enhance safety standards at your organisation get in touch with business support manager Paul Geary: paul@rts-solutions.net