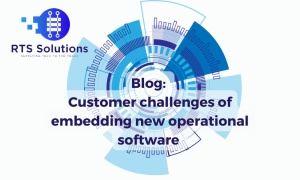 The tech is easy, it's the transitions that can be hard.
As a tech company, we know how technology can transform the workplace and its processes for the better. With the help of applications, businesses can save time, money, resources and confusion, thanks to intuitive applications managing data in real time.
However, we also understand that changing the way things have always been done is daunting. Staff members can be resistant to change and may not feel comfortable using digital applications.
Our solution is to ensure our tech is as intuitive and simple as possible. It just makes sense.
We have over 20 years' experience of working with rail companies to build software that meets the needs of our clients. Often our clients have a business problem which has varying degrees of impact on their ability to be efficient and productive.
The RTS approach ensures that we accompany our clients throughout the process of introducing new technology by taking the time to understand the legacy systems already in place, and looking at the opportunities and options that our software can deliver. We also spend time ensuring we identify any areas which might need more input or support from our team.
Our software has been developed to support our customers' workflows and optimise their resources to create safer and more efficient operations.
We understand procedures and compliance and work closely with our customers to create solutions that resolve key challenges experienced across the sector.
Our team has knowledge and experience in abundance, and through this, understands the intricacies of the rail network and how it works operationally.
Solving problems with technology is what drives every member of the RTS team.
We use an agile approach to develop our solutions and ensure they are tailored to our customer's needs. This helps to enable customer collaboration, reassessment of client requirements based on changing business needs, and allows us to easily adapt product plans in response to change.
Client discovery
Design
Development
Quality assurance
Deployment
You will be able to learn more about our agile approach to working in one of up coming blogs.
Navigating change
We have worked closely with our customers to ensure that the user experience meets expectations, and genuinely makes life easier.
One of the key stumbling blocks our clients face when embracing new technology is the daunting task of switching everything over and the disruption of change. That's why we have the below framework in place. Using this ensures a smoother transition and helps to better facilitate the changes that come with upgrading processes.
Using RTS means you will benefit from:
assistance with the integration of legacy systems and applications into our solutions.
apps with built-in automated processes to help you easily adapt to change requests when they happen.
tailored applications that help you and your teams adapt to changes and the needs of the infrastructure owners and regulatory boards.
| | |
| --- | --- |
| Challenge | Solution |
| Integrating old and new processes seems too complicated | RTS can manage and facilitate the process |
| "We've always done it this way" | RTS can provide options to make processes cheaper, easier, quicker, and more efficient. |
| Not all team members will be as comfortable using digital applications. | RTS has made all applications as intuitive and simple as possible |
| Multi-page spreadsheets take time to process and can be instantly out of date if changes are made elsewhere in the business. | Keeping up-to-date with change is a challenge that is dealt with by RTS and the automated process we have built into our apps. |
| Records can be kept on paper, then scanned and stored away.  If they need to review it may take hours to find what they were looking for. | Our applications create and store your records making gaining access to information quick and easy |
Every project is different and comes with a unique set of challenges. We understand the complexities that go into the day-to-day management of people, projects, and assets. We work closely with our clients to build solutions that help to reduce costs, standardise procedures and ensure the network runs safely and efficiently.
If you're ready to make the change and upgrade your processes, please get in touch with our business development manager Paul Geary.